STONEWALL Rebellion Veterans Association
2............0............1............9
Events 2010 * 2011 * 2012 * 2013 * 2014 * 2015 * 2016 * 2017 * 2018 * 2019
"2019 S.V.A. Newz and Events"
S.V.A. website: www.StonewallVets.org/mainpage.htm
* e-mail: SVA@StonewallVets.org * telephone: (212) 627-1969 *
SVA's color theme for April is yellow for Easter!
Updated: 19 April 2019 @ 9 a.m. (EST)


---


Saturday, June 22, 2019 --

"SVA's 50th ANNUAL CONFERENCE & STONEWALL REUNION + TESTIMONIALS"



*


The
National STONEWALL Rebellion Veterans Association
("S.V.A.") sponsors, produces and presents the milestone, informative, unique, interesting, rare and fascinating "
SVA's 50th Annual Conference and Symposium & Stonewall Veterans Reunion + Testimonials
"..... Many surviving veterans of the New York City police raids on the Gay STONEWALL Bar & Club and the five-night
1969 Stonewall Uprising
attend from across America from California to Maine and Washington to Florida..... Special 50th Anniversary Tribute to Gay icon: 'Saint'
Judy Garland
(1922-1969), international entertainer, actress and singer.....
New York City Public Officials
including congressmembers, state senators and assemblymembers and NYC councilmembers are scheduled guest speakers..... SVA's divine venue for "STONEWALL-50" is the landmark
St. John's Evangelical Lutheran Church
("SJELC") on Gay-legendary Christopher Street just off Seventh Avenue South in historic Greenwich Village, Manhattan, N.Y. The SJELC's pastor Rev.
Mark E. Erson
delivers the yearly "S.V.A. Invocation"..... Film sequences from the powerful, exciting and timely movie "
STONEWALL!
" by the acclaimed, openly-Gay movie director
Roland Emmerich
will be shown. The SVA's director
Willson Henderson
was the exclusive 'Stonewall' consultant on the film.... SVA's 'live' entertainment tradition continues with Stonewall Era singer
Sandy Rapp
..... Music from the SVA's awesome compact disc (C/D) collection: "
Songs of the Original STONEWALL Club Jukebox"
(1966-1969)"..... SVA's conference, reunion and music ignites the celebratory "
Ten Days of Gay Pride
" on Saturday, June 22nd @ 3:15 p.m. and it shindigs until 6 p.m. or so!
---
Saturday, May 25 --

STONEWALL VETERANS' ASSOCIATION MEETING at MANHATTAN G.L.B.T. CENTRE




This Memorial Day Weekend, as the
National STONEWALL Rebellion Veterans Association
plans ahead for the half-century celebration of the 1969 Stonewall Rebellion and the half-century anniversary of the S.V.A., we also remember all of the Stonewall veterans who the G.L.B.T. community has lost! Most were victims of the deadly AIDS War during all of the 1980s and the 1990s! The tremendous loss changed the face of the G.L.B.T. community today! Comfort foods are provided. Meeting and commemoration begin @ 3:15 p.m.
---
Sunday, May 19 --

STONEWALL VETS' ASSN.'s 16th ANNUAL STREETFAIR in GREENWICH VILLAGE
The STONEWALL Veterans' Association holds its "
S.V.A. 16th Annual NYC Streetfair
"! Come meet and greet
some
legendary veterans of the historic Stonewall Rebellion! After all, on the eve of the 50th anniversary of the uprising and, naturally, the S.V.A., many in Manhattan are full of so much... Pride! Another unique feature of only this streetfair is that on display for the public's information and interest will be the famous, blue 1969 convertible "
Stonewall Car
". One of the unique items for sale at the S.V.A. streetfair is the "Songs of The Stonewall Jukebox" compact discs. The SVA's streetfair venue is on University Place between Union Square/East 14th Street and Waverly Place in Manhattan, NYC. Open 10 a.m. to 6 p.m.
---
Saturday, April 27, 2019 -- S.V.A. MONTHLY MEETING at NEW YORK CITY G.L.B.T. CENTRE




SVA's new month flyer shall go here at [*] and then remove the *!



*
The
STONEWALL Rebellion Veterans Association
members and supporters mark the countdown of exactly two months until the 50th anniversary of the Stonewall Uprising on the night of Friday, June 27th, 1969! This S.V.A. gathering is focused on further strategizing and planning for "STONEWALL-50"! Documentarians will be present. Get2gether is hosted by
Willson Henderson
. Reports from S.V.A. Executive Committee members (all Stonewall veterans) such as
Bert Coffman
,
Joni Sobel
,
Ramon Bellido
,
Rusty Rose
,
Bill Salzman
,
Nance Lomax
and
David Leong
. Meeting at the Manhattan GLBT Centre starts promptly @ 3:15 p.m.
---
Sunday, April 21 (Easter) --

"MOTOWN 60" TELEVISION SPECIAL STARRING DIANA ROSS
This televison special celebrates the remarkable 60th anniversary of
Motown Records
founded by the musically and business brilliant
Berry Gordy, Jr.
Original legendary Motown singing artists who perform include:
Diana Ross
,
Smokey Robinson
,
Martha Reeves
,
Stevie Wonder
,
Thelma Houston
,
Boyz-2-Men
and
Brenda Holloway
! Expect to hear several "Songs of The Stonewall Club Jukebox" (1966-1969) during the height of the Motown Era! (
Willson Henderson
, the SVA's music expert, will let you know which songs to be posted here.) There are 'in memoriam' tributes to: Michael Jackson, Gladys Horton (of The Marvelettes), Marvin Gaye, Tammi Terrell, Levi Stubbs (of The Four Tops), Mary Wells, Shorty Long and Florence Ballard (of The Supremes), and from The Temptations: David Ruffin, Eddie Kendricks and Paul Williams. Ironically, it was fifty years ago during the Stonewall Era when Diana Ross & The Supremes with The Temptations had their second successful national television special "Get It Together (GIT) on Broadway"! Showtime tonight is @ 8 p.m. to 10 p.m. on CBS-TV. Read more about the show:
www.PRNewswire.com/News/Motown-60-a-Grammy-Celebration-a-Diamond-Jubilee.html
---
Monday, April 21 --
BROADWAY CARES PRESENTS "33rd ANNUAL EASTER BONNET COMPETITION"
Broadway Cares/Equity Fights AIDS
("BC/EFA") is known for decades for producing some of the most professional, talented and fascinating shows on- or off-Broadway! This is the incredible thirty-third incarnation of the awesome "Easter Bonnet Competition" -- a fund-raiser for BC/EFA.
Tom A. Viola
is the incredible hands-on/feet-on executive producer! Once again, the production is held at the legendary Minskoff Theatre at 200 West 45th Street at the famed Shubert Alley in the Times Square area of Manhattan, NY. Showtime is @ 8 p.m. For more 411:
www.BroadwayCares.org
.



---
Saturday, April 20 -- FILMING for "STONEWALL-50 DOCUMENTARY: 'AIN'T NOTHING LIKE THE REAL THING'"


The Stonewall veterans scheduled for this "STONEWALL-50" film segment have been notified as to location and time. One "S/W-vet" who is so anxious for their close-up is the 1969 "Stonewall Car"! Theme song by Motown's legendary duo Marvin Gaye and Tammi Terrell.
---
Monday, April 8 --
TRANSITION: S.V.A. BOARDMEMBER RAY J. McMCAFFREY DIED at HOME in NJ at 87
Besides being a charter member and boardmember of the STONEWALL Veterans' Association and a longtime official of the Imperial QUEENS & Kings of Greater New York,
Raymond James McCaffrey
was also a military veteran of the Korean War! For more info on "Ray-Jay", visit his webfile at the S.V.A.:
www.StonewallVets.org/RayMcCaffrey.htm
.



---
Friday, April 5 --

STONEWALL VET BIRTHDAY: QUEEN ALLYSON ANN ALLANTE



---
Saturday, March 30 --

MONTHLY MEETING of the STONEWALL VETERANS @ 3:15 p.m.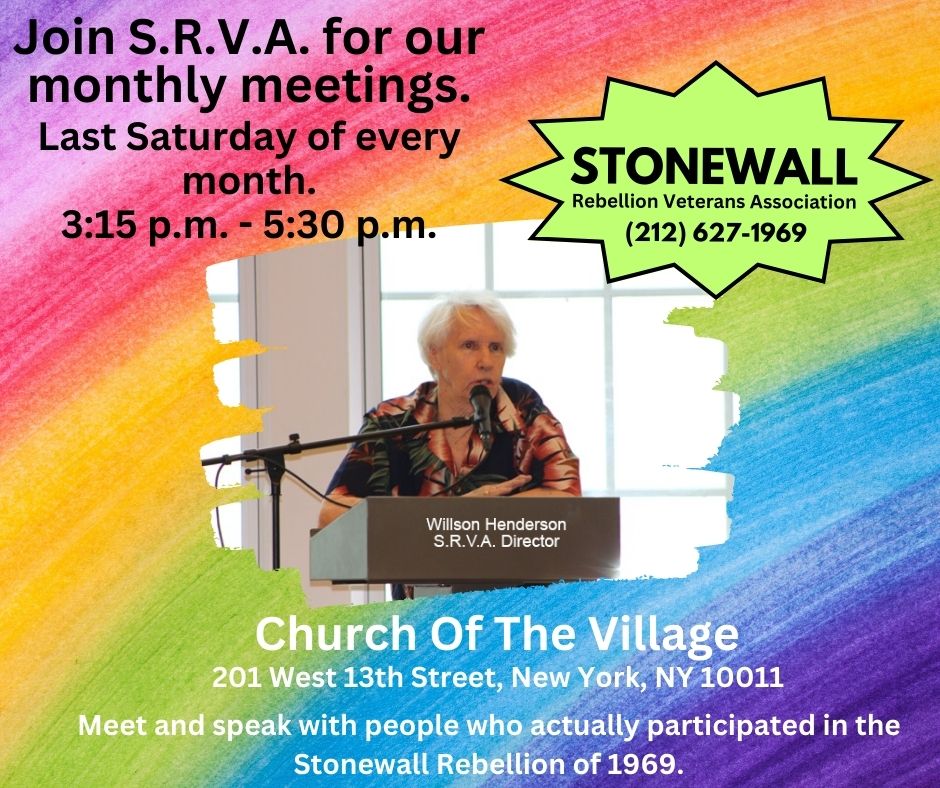 This is the three-month marker before "
STONEWALL-50
" with the SVA's conference, the G.L.B.T. festivities involving S.V.A. and the two simultaneous Gay Pride parades/marches in New York City!! Discussing and planning for those happenings is the main topic for today's meeting. Some national media "S/W-50" project planners have confirmed. Commandeering the meeting is the SVA's director
Willson Henderson
. Communications with public officials are reported by
Bert Coffman
. Updates on the Reclaim New York City G.L.B.T. Pride March are delivered by S.V.A. boardmember
Ramon Bellido
, who bi-weekly attends their weekly meetings.
Leigh McManus
tells one-way conveyances with the main NYC Pubic Library in Manhattan regarding their overtly exclusionary and grossly lacking 'Stonewall' history display.
Rusty Rose
updates outreach with other G.L.B.T. organizations including the diss-respectful 'Heritage of Shame'!
Joani C. Sobel
reports on the SVA's next streetfair and the SVA-won battle with Community Bored #2. Stonewall vet
David Scott
fills us in on the SVA's "S/W-50" committee news. Members and guests are greeted at the door by the SVA's general manager
AnDre M. Christie
. S.V.A. dues and sponsorships are payable by check or money order. Meeting at the Manhattan LGBT Centre begins sharply @ 3:15 p.m.
---
Friday, March 29 --

JAMES E. "JED" DAVIS, FORMER NYC COUNCILMAN, TELEVISION DOCUMENTARY
In their new television news series "Only In New York", local tv station PIX-11 presents a documentary on former NYCPD police officer and NYC Councilman
James E. (Jed) Davis
. Interviewing Jed's dedicated mother Thelma Davis and his virtually lifelong little brother
Geoffrey A. Davis
are crucial. Interviewing Brooklyn Borough President
Eric L. Adams
, also a former NYCPD police officer and Jed friend, makes total sense. Getting comments from Al 'Sharp-tongue' is a disconnect. Jed referred to him as "a former hairdresser"! Jed was a known active and ardent supporter of the STONEWALL Veterans Association. In fact, he was an honorary member. Since PIX-11's junior creative producer Heath Benfield failed to contact several key people, we are presuming that the Jed documentary will not be a 'complete' retrospective of Jed's real life. The project shows signs of straight-washing! We doubt, in advance, they know his non-family nickname was "Jed". Nonetheless, the S.V.A. is glad that Jed is getting attention he deserves. The half-hour show airs on Channel 11 locally in the NY Tri-State area on Friday evening, March 29th @ 10:30 p.m. (EST).
www.KingsCountyPolitics.com/PIX-11-documentary-on-late-City-Council-Member-James-E-Davis-Politics
---
Thursday, March 28 --

FORMER NYC NYC COUNCILMEMBER and NYC PARKS COMMISSIONER HENRY J. STERN DIES at 83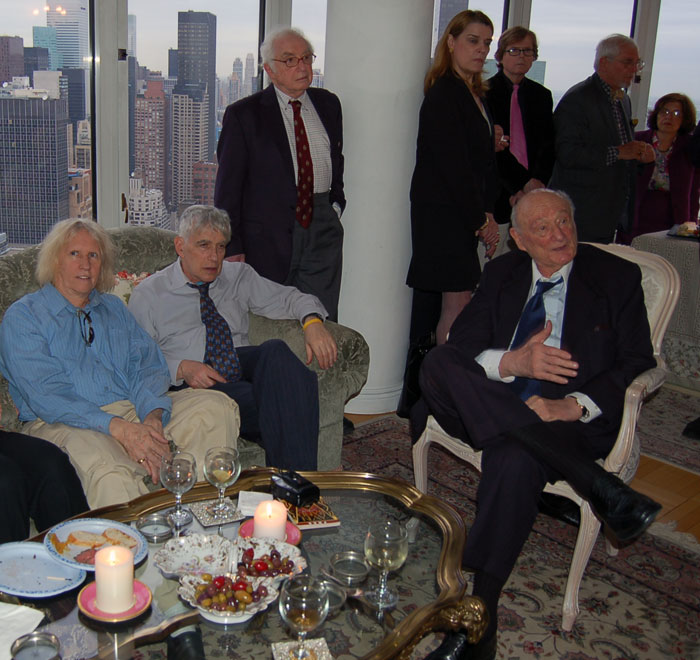 Pictured: SVA's Willson Henderson, Commissioner Henry J. Stern and Mayor Ed Koch
Henry Jerome Stern
, a legendary New York City figure for four decades, served as the very successful, entertaining and unique NYC Parks Commissioner under three mayors: Ed Koch, Rudy Giuliani and Michael Bloomberg. At a ceremony, including dinner, at the Central Park Arsenal around the turn-of-the-century, Commissioner Stern publicly presented Willson Henderson's park name as, of course, "Stonewall"! HJS's park name is "
StarQuest
". After government service, "S/Q" founded the popular New York Civic government group with its outstanding and introspective newsletters on current policy issues and government-related happenings plus political personalities (good and bad). "
Henry J
" (like the vintage car) was a solid and proud supporter of the S.V.A. for over forty years! He was a keynote speaker a decade ago at an S.V.A. conference at the Manhattan Gay Centre. An interesting obituary on Mr. Stern is in the New York Post. It shows a picture of StarQuest with a future president, a trim Donald J. Trump in Central Park!
NYPost.com/2019/03/28/Henry-Stern-City-Parks-Commisioner-dead-at-83
---


Wednesday, March 27 --

NEW YORK CITY G.L.B.T.

PRIDE PARADE/

MARCH TOWN HALL



This G.L.B.T. town hall is sponsored by the

Reclaim GLBT Pride Coalition

("RPC"). The well-planned G.L.B.T. community forum is to openly discuss and plan the "Spirit of Stonewall March - STONEWALL-50" aka "the alternate GLBT march"! Thus, this get2gether welcomes community input. The actual milestone marches, three months away, happen on the last Sunday in June on the 30th. This march blasts-off appropriately in Greenwich Village, NYC, in the the Stonewall National Monument area at Seventh Avenue and Christopher Street at high noon! The march proceeds up a major avenue and into Central Park on The Great Lawn for the largest G.L.B.T. rally in history! Tonight's event is co-hosted by

Ann Northrop

and

Colin P. Ashley

. Forum is held at the charming Church In The Village at the corner of Seventh Avenue and West 13th Street. Ignite time is @ 6:30 p.m. until 8:30 p.m. For more 411, visit:

www.ReclaimPrideNYC.com

.



---


Tuesday, March 26 --

DIANA ROSS: #1 STONEWALL JUKEBOX SINGER and WORLD SUPERSTAR BIRTHDAY





To commemorate Miss

Diana Ross

's birthday, among many other tributes, there are commemorations on "Entertainment Tonight", "Extra", "Inside Edition" and even "Nightline"!

A documentray on "Diana Ross" will be released in nearly 1,000 movie theatres across America.

It includes the remastered "Diana Ross Central Park Concert".






---


Wednesday, March 20 --

S.V.A. DINNER MEETING with REPS of the NYS GOVERNOR ANDREW CUOMO @ 5:30 p.m.





---


Saturday, March 16 --

NEW YORK CITY 258th ANNUAL ST. PATRICK's DAY PARADE on FIFTH AVENUE



Contrary to misinformation, the

New York City

St. Patrick's Parade

has always had Gay people in it as participants and, of course, at it as spectators! Currently, the

G.L.B.T. Lavender & Green Alliance

is the official Gay Irish group in the St. Pat's Parade. Special luminary marchers include NYS Governor

Andrew Cuomo

. The parade line-up is on Fifth Avenue at 42nd Street in Midtown Manhattan. Parade proceeds up Fifth Avenue to East 80th Street. Note: Although St. Pat's Day is on the 17th, the parade is 'never on a Sunday'! Parade launches @ 11 a.m.




---


Wednesday, March 13 -- S.V.A. DINNER MEETING with "S/W-50" PROJECT PRODUCERS @ 5 p.m.



---


Wednesday, March 13 --

SVA's SENIOR LEGAL COUNSEL HALLY WEINER's 84th BIRTHDAY!





---


Monday, March 11 -- BROADWAY CARES PRESENTS GENDER-BENDER MUSICAL "BROADWAY BACKWARDS"



Broadway Cares/Equity Fights AIDS

produces this exciting and highly-talented "Broadway Backwards" musical and theatrical event every year. Executive (and hands-on) producer is

Tom A. Viola

. Venue is the New Amsterdam Theatre at 214 West 42nd Street in Times Square in Manhattan. Showtime @ 8 p.m.

For more 411, please visit:

www.BroadwayCares.org

.



---


Sunday, March 10 --

ARETHA FRANKLIN MUSICAL TRIBUTE on TELEVISION SPECIAL



The "Queen of Soul"

Aretha Franklin

, who passed a half-year ago, was also the soul queen at the original Stonewall Club in NYC! Watching this super special will acquaint you with many songs by Aretha in the 1967 to 1969 Stonewall Jukebox. They include: "I Ain't Never Loved A Man The Way I Love U", "Respect", "Dr. Feelgood", "Baby I Love U", "A Natural Woman", "Chain Of Fools", "Since You've Been Gone", "Think", "The House That Jack Built", "See-Saw" and "Share Your Love With Me"! Performers featured singing Aretha songs are Patti LaBelle, Celine Dion, Jennifer Hudson, Alicia Keyes, Kelly Clarkson, Smokey Robinson, Belinda Carlisle, John Legend and many other singers. Showtime on CBS-TV is @ 9 p.m. until 11 p.m.



---


Saturday, March 9 --

CONGRESSMAN JOE CROWLEY'S ANNUAL ST. PAT'S PARTY in QUEENS



Among the confirmed guest speakers are Queens Borough President and Queens Borough District Attorney candidate

Melinda R. Katz

and former NYC Councilwoman and current Queens Borough President candidate

Elizabeth Crowley

. The party venue is The Globe Tavern, a popular Irish drinkery and eatery, at 4910 Skillman Acenue in Sunnyside, Queens. Blast-off is @ 7 p.m.



---


Thursday, March 7 --

S.V.A. STAFF BIRTHDAY: RAINBOW MELLIQUE, YOUTH-4-SVA ORGANIZER





---


Wednesday, March 6 --

STONEWALL JUKEBOX SINGER BIRTHDAY: MARY WILSON of THE SUPREMES





---


Monday March 3 --

STONEWALL VET BIRTHDAY: SVA's V.P. BERT COFFMAN from MANHATTAN





---


Friday, March 1 --

S.V.A. SOCIAL COMMITTEE SUPPER MEETING at ROSSO'S RESTAURANT



Co-chairing the

S.V.A Social Committee

's dinner meeting are the SVA's director

Willson Henderson

, S.V.A. vice-president

Bert Coffman

and SVA's general manager

AnDre M. Christie

, pulling up next to the eatery in his big BMW sedan. This open-ended get2gether, with an expansive agenda, will be approximately three hours complete with Lambrusco and a four-course dinner! Glasses clang @ 4:30 p.m.



---
Tuesday, February 26 --

SPECIAL ELECTION: N.Y.C. PUBLIC ADVOCATE
---


Saturday, February 24 -- 91st ANNUAL ACADEMY AWARDS a.k.a. THE OSCARS

Unquestionably, the gayest show on television virtually every year is the

Academy Awards

or, as Bette Davis named it, The Oscars -- Hollywood's biggest night! It is the gayest show because of all the Gay talent, grand attire and over-the-top fanfare! Gay favorite

Barbra Streisand

presents the 'Best Picture' award.

Glenn Close

, on her seventh nomination for same, should win her well-deserved 'Best Actress' award for "The Wife" and her outstanding four-decade career!

Bette Midler

sings "The Place That Lost Things Go" from the movie "Mary Poppins Returns". Glamorous

Jennifer Lopez

appears with her dapper husband

Alex Rodriguez

! "Dreamgirls" winner

Jennifer Hudson

belts out "I'll Fight" from the film "RBG (Ruth Bader Ginsberg)".

La Gaga

performs "Shallow" from (the fourth remake of) "A Star Is Born"! Showtime is @ 8 p.m. on ABC-TV until 11 p.m. or so!



---


Saturday, February 23, 2019 -- STONEWALL VETERANS' ASSOCIATION MONTHLY MEETING

Attendees can expect an informative and exciting meeting at the S.V.A. There is a diverse assemblage planned with Brooklyn Borough President

Eric Lee Adams

, several Stonewall veterans confirmed including

Berti Coffman

,

Leigh McManus

,

Ramon Bellido

and

Joni Sobel

, representatives from

Reclaim LGBTQ Pride March

, two producers from a national television network, a professor of Gay studies at Columbia University, and a few public advocate candidates confirmed including

Jared Rich

, Esq. activist

Tony Herbert

and Dr.

David Eisenbach

! The SVA's general manager

AnDre Christie

provides a unique retrospective of the S.V.A. since he became a young staffer in 2003 including WLH being declared the 'Gay Rosa Parks' by the Civil Court of N.Y.C. and the pivotol Stonewall vets who the G.L.B.T. community lost over that period such as Storme DeLarverie, Emile Griffith, John-Paul Ranieri, Electra O'Mara, Charles Snyder and Dave West. The S.V.A. meeting starts promptly @ 3:15 p.m. captained by

Willson Henderson

.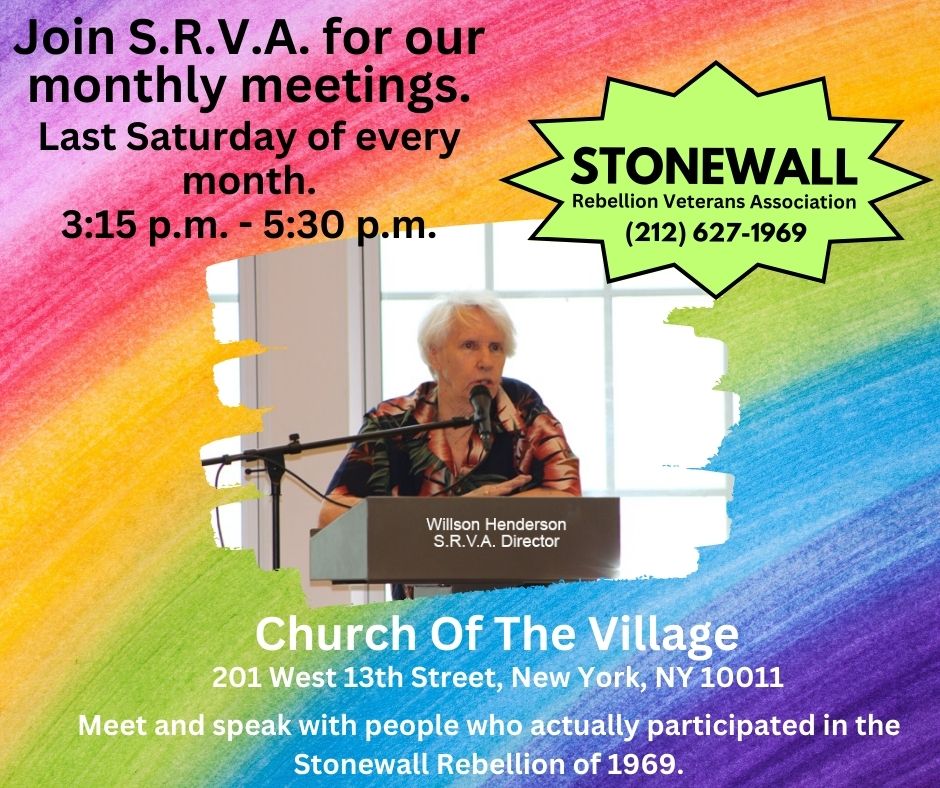 SVA's February 2019 Monthly Meeting with a Surprise Brooklyn Male Public Official Guest!
There will also be a handful of 'select' (it means not all) N.Y.C. Public Advocate candidates.





---


Wednesday, February 20 --

S.V.A. BUSINESS SPONSOR PARTY in SOHO, MANHATTAN @ 6 p.m.





---



Tuesday, February 19 --

NEW YORK CITY PUBLIC ADVOCATE FORUM



This important forum, exactly one week before the special election of a new

N.Y.C. Public Advocate

, is sponsored by the

Manhattan Black Bar Association

("MBBA"). Confirmed candidates include

Jared M. Rich

, Esq.,

Dawn Smalls

, Esq. and

Michael A. Blake

. Currently, the public advocate position is vacant. The impressive venue is in the state-of-the-art auditorium of the Fordham Law School at 150 West 62nd Street opposite Lincoln Center in Manhattan, NY. Program commences @ 6:30 p.m. followed by a catered reception!



---


Monday, February 18 -- SUPPER MEETING with a NEW YORK CITY PUBLIC OFFICIAL @ 5 p.m.




---
Tuesday, February 5 -- PUBLIC ADVOCATE DEBATE at MEDGAR EVERS COLLEGE @ 6 p.m.


---


Tuesday, February 5 --

LONGTIME GAY DEMOCRATIC LEADER JAMES R. "JIM" McMANUS DIES at 84






---


Tuesday, February 5 -- S.V.A. BOARDMEMBER BIRTHDAY: SANJAY PETERSEN of BROOKLYN, NY



---
Saturday, January 26, 2019 --

STONEWALL VETERANS ASSOCIATION MONTHLY MEETING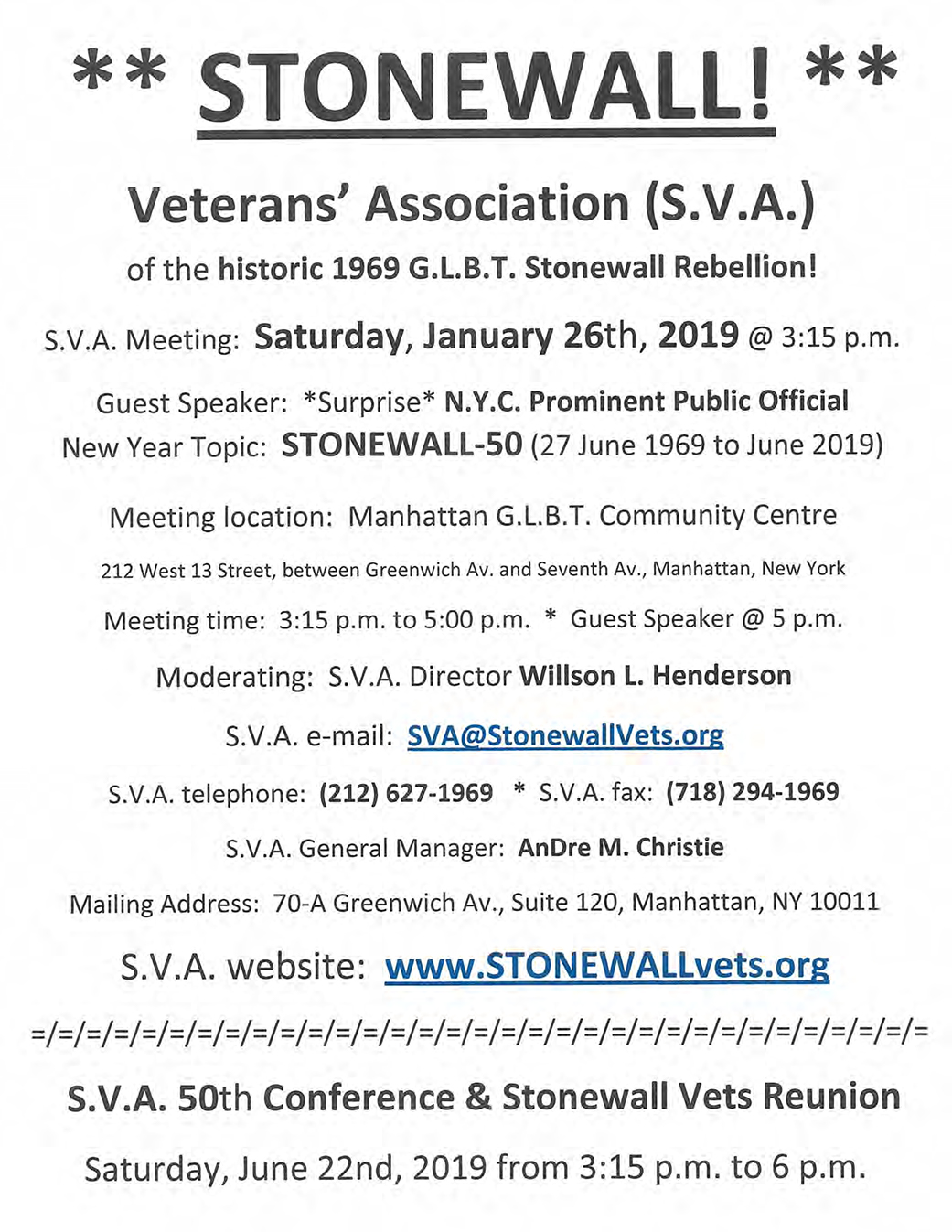 STONEWALL Rebellion Veterans Association does not meet on holidays or holiday weekends. The SVA's
next monthly meeting is on 'the last Saturday of the month', January 26th, 2019 @ 3:15 until 5 p.m.
There is a surprise New York 'elected' guest speaker! This meeting features 'select' candidates for the next NYC
Public Advocate (P/A). Candidates must schedule a specific time with S.V.A. P/A election is Tuesday, February 23th!

Post-Event Update: The special public official guest speaker was New York State Senator

Dyane J. Savino

!





---



Saturday, January 19 --

STONEWALL VET BIRTHDAY: LEIGH P. McMANUS of HUNTINGTON, LONG ISLAND






---


Wednesday, January 16 -- NYC PUBLIC ADVOCATE CANDIDATES' FORUM at GLBT CENTRE @7 p.m.




---



Wednesday, January 2 --

S.V.A. FORMER STAFFER BIRTHDAY: DONALD RAY WILLIAMS of LONG BEACH, LI






---
2019:

HALF-CENTURY ANNIVERSARY of 1969 G.L.B.T. STONEWALL REBELLION
---



Updated:
4 March
2019