Related to

The STONEWALL Bar & Dance Club

at 51 Christopher Street in the Greenwich Village section of Manhattan, New York City, this is the

one

and

only

-- known or unknown --

New York City Police Department

("NYCPD") mug-shot as a result of the notorious 1969

Gay, Lesbian, Bisexual and Transgender

("G.L.B.T.") Stonewall Rebellion. There were total of 21 arrests from the notorious. There were thirteen arrests the first night (Friday, June 27th), six arrests on the second night (Saturday, June 28th) and three arrests on the third night (Sunday, June 29th, 1969). There was no rebellion or uprising on Monday and Tuesday evenings due to rain. For your information, at that time in history, Gays did not 'rebel' when it was raining! Who wants their hair messed up? Not Gays. When the rebellion resumed for its fourth night (Wednesday, July 2nd) and, then, the fifth and final night (Thursday, July 3rd), there was no rain and no arrests. There were, however, plenty of signs such as "Gay Power", "Gay Rights", "Gay Marriage" and "Gay Unity".

The original raid on the ~original~

STONEWALL Bar & Dance Club

by the NYCPD very late Friday night on June 27th, 1969 was not, as it turned out, the typical police raid on a Gay bar! The alerting 'white lights' went on signalling that the police were at the front door but the white lights never went off! This Gay club raid was not just instigated by the local police

Sixth Precinct

. This raid came from much higher up within the police department as they were aware about the Gay bar pay-offs to some local police. The coordinated invasion -- a sneak attack -- also involved heavyhitters the

First Division Detectives

("FDD") and the

Bureau of Alcohol, Tobacco and Firearms

("ATF"). Thus, three legs to this table!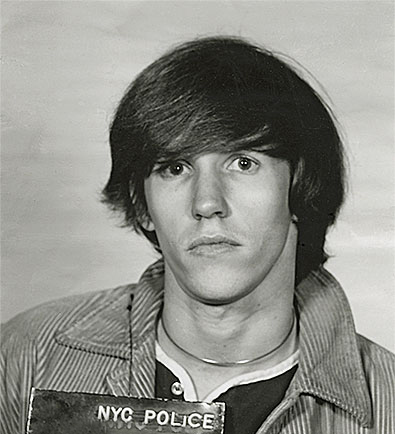 "

The Face of Stonewall

" (shown above), as has now been famously named by many astute observers, represents the look of a "Stonewall Inn" patron. If one is familiar with the times of Gays and the police in New York City in the 1960s, of course, the Stonewaller did not use his or her actual name. To have done so would have been careless and naive. Because

The STONEWALL Club

, proudly owned and efficiently operated by the Mafia, had to be considered a 'private club' in order to control who entered, you were regarded as a 'member'. Therefore, you had to 'sign-in'. What name you used was irrelevant.

This Stonewaller shown above signed in as the junior namesake of an actress from Hollywood namely

Lana Turner

! Lana was ultra blonde, stunning, daring and sexy on screen and off. She had Gay favorite films like "Ziegfeld Girl", "The Postman Always Rings Twice", "Peyton Place", "Imitation Of Life" and "Madame X"! There were many ~original~

STONEWALL Club

patrons named as follows:

Bette Davis

,

Judy Garland

,

Joan

Crawford

,

Mae West

and, of course,

Elizabeth Taylor

! There was also

Barbara Stanwick

,

Vivien Leigh

,

Olivia De Havilland

,

Greer Garson

and, you betcha,

Shirley Temple

! Female singers included

Barbra Streisand

,

Diana Ross

,

Shirley Bassey

,

Dolly Parton

,

Aretha Franklin

,

Petula Clark

and

Cher

! Nightly, there were also male celebrity names such as: 1)

James Dean

(Bisexual), 2)

Frank

Sinatra

, 3)

Marlon Brando

(Bi), 4)

Little Richard

(Gay), 5)

Rock Hudson

(Gay), (6)

Cary Grant

(Bi),

7

)

Johnny Matthis

(Gay),

8)

Frankie Valli

, 9)

Liberace

(Gay) 10)

Marvin

Gaye

(Bi), 11)

Ted Kennedy

(the politician), and, of course, cartoon characters like 12)

Donald Duck

and comic book heroes like (13)

Dick Tracy

(double entendre)! (Gay Note: #4, 5, 7 and 9 were publicly known to be Gay; Bisexual Note: #1, 3, 6 and 10 were admitted Bisexuals.) Sometimes the name signed in was cleverly one of the movie characters that one of the above actresses portrayed such as "

Dorothy Gale

" (Judy G), "

Mrs. Skeffington

" (Bette D), "

Mildred Pierce

" (Joan C), "

Virginia Woolf

" (Elizabeth T), "

Margo Channing

" (Bette D), "

Madame X

" (Lana T), "

Harriet Craig

" (Joan C), "

Baby Jane

" (Bette D) or "

Blanche Hudson

" (Joan C)! There were even character names from songs like "

Eleanor Rigby

" and "

Father MacKenzie

" from The Beatles' song and "

Jimmy Mack

" from Martha Reeves & The Vandellas' song of the same name. It was always anticipated fun to see who signed in with what name! Some used play-on-words names like

Ginny Genovese

or

Gerty Gambino

!

Elsewhere in America and throughout most of the World, the situation and scenario would have been far worse than in New York City, which was quite progressive and mostly accepting. Back on point with the unwritten, Gay life, two-point policy back then:

do not

bring any identification ("I/D") and

do not

use your real name! Therefore, with no I/D on a Stonewall person and a clean record in the system for any name, there was literally nothing for the police to check and nothing to compare. There was no I/D for probably ninety percent of the patrons who went to any Gay bar, particuarly one that was Mafia-run such as

The STONEWALL Club

in Greenwich Village, NYC;

The Hayloft

in Oceanside, Long Island;

The Thrush

in the Flat-Iron District of Manhattan;

The Magic Touch

in Island Park, LI;

Dr. Feelgood's

in Central Greenwich Village;

The Limbo Lounge

in Bayside, Queens, NYC;

The Charade

in East Harlem, NY;

Ralph's

(

Dance) Bar

on Ralph Avenue in Brooklyn, NY; and

Satan's Club

in Baldwin, Long Island. Also like The Stonewall, the others were previously raided many times by the police. Again, Gay patrons, notably Stonewallers, made sure

not

to bring one item with them to the Gay club... I/D!